With the ever-expanding list of tv subscription services in the UK, along with regular broadcast tv, it can get a little confusing as to what are the best deals, and what each service offers. This page is designed to help explain and hopefully, help you make a decision as to which services are right for you.
Main Subscription Services
We've split the page down into various categories. This first is what we describe as "main" subscription services. These are services which offer access to a wide range of channels with the ability to record live tv.
Sky TV
Cost: From £25 per month
Pros: A huge range of programming and deals. Ability to record what you want.
Cons: Expensive compared to some other options.
Sky is the major player in the UK for subscription TV. It has the widest range of tv shows, and you can record anything on any channel it broadcasts. They offer a huge range of packages, from just TV, to TV, Film & Sport, along with TV & Broadband. If you want the largest selection of shows with the most flexibility, Sky really is the best option.
Find out more about Sky Entertainment & Cinema package here, or Entertainment & Sports package here.
You can also find the latest offers from Sky TV below (prices may change during this period):
Get Sky TV for £25 p/m for 18 months. £20 setup fees. 
Get Sky TV & Sky Sports for £39 p/m for 18 months. £20 setup fees.
Virgin Media TV
Cost: From £33 per month (with broadband)
Pros: A good range of programming and deals. Ability to record what you want, and has some exclusives.
Cons: Not cheap, and missing some key channels.
Virgin is a solid alternative to Sky, but it is not available everywhere, so it might not be possible to get it in your area. Like Sky, it has a wide range of programmes, and the ability to record whatever you want when you want. However, it is missing some key channels, such as Sky Atlantic, meaning no 'Westworld', or any of the other brilliant HBO shows… They do have a few exclusive shows of their own though. You also have to take their broadband package, which you may not want to do.
Find out more about Virgin Media TV here.
NOW
Cost: From £5.49 per month (offers) – £8.99 per month (regular)
Pros: Cheap, and a great range of programming and deals
Cons: Needs a decent internet connection, less content than Sky or Virgin.
NOW is basically Sky On-Demand but without the expense. It doesn't have quite the flexibility or content of a full Sky setup, but it has most of the major bases covered, such as Sky One, Sky Witness, Sky Atlantic, Sky Comedy, Gold, Sky Crime, Comedy Central, Sky Arts, Fox, MTV, Nat Geo Wild, Discovery Channel and SYFY. You also get box sets for shows from all of these channels, plus VICE, Challenge and Pick. It is also a fraction of the price of buying Sky, and all you need is access to an app, either by their own Smart Box/Stick, or on a smart TV, games console, tablet, or other app-based devices.
If you need a NOW smart stick or box, check out this link – NOW Smart Box Bundles
If you have a Smart TV, games console, tablet or another device with the app already, check out the NOW Offers here.
BT TV
Cost: From £10 per month (£15 if you want Premier League football).
Pros: Great if you like football, AMC UK
Cons: Less content than Sky or Virgin.
BT TV is basically NOW TV, but will some exclusive additions. In terms of entertainment, they have the exclusive rights to the AMC channel. Unfortunately, AMC UK does not have the same content as AMC US. For example, shows like 'The Walking Dead' air on FOX over here, and 'Better Call Saul' airs on Netflix, so the benefit of having AMC UK isn't that huge… Their major selling point is they have exclusive rights to 52 live Premier League matches and every single UEFA Champions League game (although, that isn't a whole lot of use to you whilst all the sport is shut down due to the pandemic…)
Click the link below to find out more:


Paid Streaming Services
These are additional streaming services which offer their own original programming, plus various "bought-in" shows and film. They make good additions alongside the main TV packages listed above.
Netflix
Netflix offers thousands of hours of entertainment from award-winning TV programmes, to films, anime, documentaries and more. They have a great selection of original drama and comedy such as 'The Crown', 'Narcos', 'The Umbrella Academy', 'Unbreakable Kimmy Schmidt', and 'Orange Is The New Black'. They also have a great selection of imported content such as 'Better Call Saul', 'Good Girls', 'It's Always Sunny in Philadelphia', 'The Good Place', 'Titans', 'Black Lightning' and 'Star Trek: Discovery'. It's a great choice if you're stuck indoors and want to expand your entertainment options at home.
The service is available on smart TVs, smartphones, tablets, streaming media players and game consoles, along with desktop computers. Plans start from £5.99 a month, and you can cancel at any time.
You can find out more and sign up here.
Amazon Prime Video
Amazon Prime is another great additional choice to your main tv package. The cost is a little more than the basic Netflix offer, but you also get access to a whole lot more as well! Along with access to a bunch of tv and film, you get free Amazon one-day shipping, exclusive shopping deals, access to a pile of eBooks for free, unlimited photo storage, and over 2 million songs via Prime Music.
On the tv side, Prime Video has some great original content, such as 'Bosch', 'The Boys', 'The Man In The High Castle', 'The Marvelous Mrs. Maisel', 'Jack Ryan', and 'Carnival Row'. They also have exclusive imports such as 'Star Trek: Picard', 'New Amsterdam', 'Vikings', 'Treadstone' and 'Outlander', most of which air the day after the US broadcast.
Amazon Prime costs £7.99 per month, has a 30-day free trial, and you can cancel at any time.
You can find out more about Amazon Prime here.
Disney+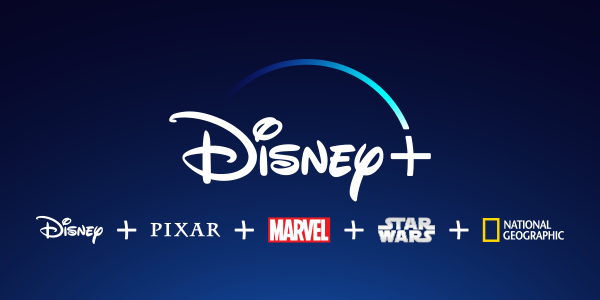 The latest streaming service to hit the UK is Disney+. Unlike Amazon and Netflix, the service only offers content owned by Disney… but when that includes all the original Disney stuff, along with Marvel, Star Wars, National Geographic, and selected Fox shows and movies, they aren't exactly short on things to air!
Here you will find all the Marvel films, Star Wars films and tv shows, a selection of National Geographic content and 30 years of 'The Simpsons' episodes! They also, of course, have all the Disney movies – from 'Snow White' to 'Toy Story 4', cartoons from 'Steamboat Willie' to 'DuckTales', and huge selection of Disney tv shows. On the original content front, you have shows including 'The Mandalorian', a new season of 'Star Wars: The Clone Wars', 'High School Musical: The Musical: The Series', and so much more coming soon, such as 'Falcon and Winter Solider' and 'WandaVision'. See the full line up here.
Sign up for Disney+ to watch the best stories from Disney, Pixar, Marvel, Star Wars, National Geographic, and more!
Apple TV+
Apple TV+ is a little light on content, as it only has original shows and no catalogue of imports. However, the original shows it does have are extremely high quality, and well worth a watch, and as you can cancel anytime, it might be worth putting on for a few months so you can binge through their stuff!
Original series include 'See', an epic drama starring Jason Momoa from 'Peaky Blinders' creator Steven Knight, 'The Morning Show' starring and executive produced by Reese Witherspoon and Jennifer Aniston, alt-history drama 'For All Mankind' from 'Battlestar Galactica' and 'Outlander' creator Ronald D. Moore, hilarious gaming workplace comedy 'Mythic Quest: Raven's Banquet', plus a lot more.
Apple TV+ is available on the Apple TV app via iPhone, iPad, Apple TV, iPod touch, Mac, and online at tv.apple.com across 100 countries and regions, including the UK. It is also on select Samsung, Sony, LG and Vizio smart TVs, Amazon Fire TV and some newer Roku devices, although they were not all available for the launch, so check your app store. The service costs £4.99 per month with a seven-day free trial, but if you happen to be in the market for one of the Apple products listed above, you get will get 12 months of Apple TV+ for free.
Starzplay
STARZPLAY, it is an addition "add-on" channel you can get via Amazon Prime Video, Virgin Media and Apple TV, or you can get it directly via the STARZPLAY App on Android, Apple and select Samsung smart TVs.
Since it's launch, the service has built up a nice little collection of shows, including award-winning series like 'The Act', and 'Ramy'; the DC Comics Batman prequel 'Pennyworth'; Stephen King and J.J. Abrams 'Castle Rock' along with a growing selection of exclusive STARZ Originals on the same day they launch in the U.S., including 'The Spanish Princess' and 'Vida', and hit movies like 'Shutter Island' and 'Charlie's Angels'.
To get STARZPLAY via Amazon Prime click here, or visit their website.
Free Streaming Services
If you're on a budget, or just don't want to fork out for more channels, there are a number of free options for streaming in the UK. The four main ones are:
iPlayer – the BBC's service which allows you to watch BBC programmes online. You can watch all the TV channels and a wide selection of their programmes are available to watch shortly after they've been broadcast for a set amount of time. They also have a number of BBC boxsets available on the system.
ITV Hub – ITV's version of iPlayer, where you can watch shows from any of their family of channels, such as ITV, ITV2, ITVBe, ITV3, ITV4 and CITV.
All4 – Channel 4's video-on-demand service. Here you can catch up on shows from Channel 4, E4 and More4, along with a very good selection of box sets. They also have imports exclusively on the service with foreign language shows via Walter Presents and animated series from Adult Swim.
My5 – Here you can catch up on your favourite shows from Channel 5, 5STAR, and 5USA, as well as watching exclusive content and box sets.
Not available in the UK (at the moment): DC Universe, HBO Max, CBS All Access, Hulu.