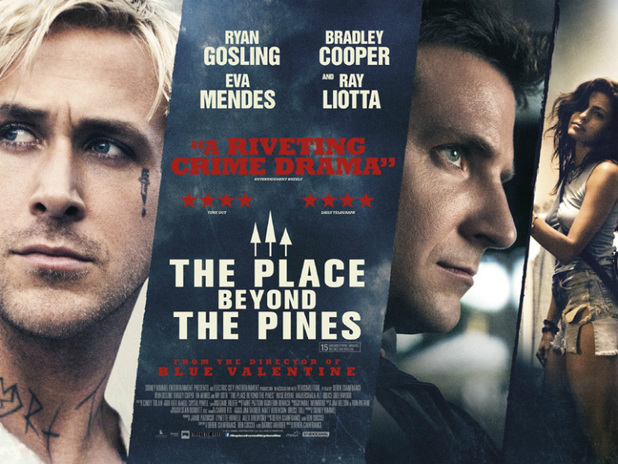 I have never really understood the obsession with Ryan Gosling. I have nothing against him as a human being, and yes, his character in The Notebook was the kind of guy that would have pretty much any woman melting at his feet, but I don't really find him particularly attractive.
Well, I didn't. Apparently I'm shallow enough that a few tattoos and an opening shot of a very well-defined six-pack changes all that.
The eye candy in this movie (that's right, we're diving straight in with the most important bit) is excellent. Gosling, tattooed and hunky, and the gorgeous Eva Mendes make for compelling main characters.
On top of which, the storyline is fantastic. Gritty, true-to-life. Just the sort of thing I like.
Luke, a fairground motorbike stunt man with a criminal background, sees his old lover when he returns to a place he hasn't been for over a year. Showing up unexpectedly at her house, he discovers that she has a secret: his child, born shortly after he took to the road the last time, is now nearly a year old. The realisation that he has a son makes him want to settle down and provide for his family, but he has no knowledge of any kind of regular work. A chance encounter with another motorcyclist gives him a place to live and a basic income through fixing cars, but he needs more of a cash flow if he hopes to charm his ex away from her new man and back into his (tattooed, hunky) arms.
The guy he's staying with suggests that they rob some banks. Initially, Luke dismisses the idea out of hand, but then realises that it might be a good way to make a quick buck. Of course, things don't entirely go to plan, and the rest of the film deals with the repercussions of his criminal actions.
There are a lot of interesting themes in this movie, not least the idea that you can't really escape who you are and where you've come from. Luke wants to do well for his family, provide for them and support them like he knows he should, but something hardwired into his psyche prevents him from being able to do anything other than resort to violence and speed to get what he wants. This theme recurs throughout the film: later on we meet a policeman who eventually pursues a career in law, and notice the corruption going on around him and the way he has to play up to it in order to succeed. Both men seem trapped, somehow; both just want to give the best they can to their families, and yet are caught up in the harsh nature of the world around them, and end up being victims to it, albeit in very different ways.
Gosling gives a truly stellar performance – the man can act, no doubt about it. Particularly moving is the scene in which he watches his son's christening from the back pew of a church to which he hasn't been invited; his face gradually crumples in that agonising way reserved for moments that seem to last a lifetime.
There are so many excellent plot twists in this movie that I can only explain about half of the storyline without giving horrible spoilers, so you're just going to have to go and watch it for yourselves. You won't regret it, I promise.
9/10 – Fast-paced action meets gritty reality with a touch of romance